All of us have once warmed ourselves with a cup of warm tea or hot chocolate in the company of friends, blankets and pillows.

Or, perhaps, you spent the holidays by the palm tree with refreshing freshly squeezed juices or fruit cocktails?

In any case, it is time to tell you more about the full bodied wine, vitamine such juices and other thrust clenching drinks.

If you visit our "Beverages" page you will learn about the technical side of carriage of variety of alcohol and non-alcoholic beverages.

Today, however, we will tell you only the most interesting and important features, that you don't think about but face every day.

Did you know that the origin of apple juice is China* and peach pure - Greece*, while the best pear pure comes from Chile?

Most of us like our orange juice with breakfast. Refreshing and chilled with a little bite, who knew that the concentrate is poured into the tanks at mid 20 F temperatures! While during transportation the temperature cannot exceed 28F degrees, otherwise it will not pass FDA inspection. Vast experience and outstanding qualifications of your vendors gives us the assurance that the cargo will be delivered to the destination in the right condition exactly on time.
* - by production volume
It is more difficult, yet interesting with wine!
Spain, Chile, Italy, France, RSA, New Zealand and Australia, South and North Americas - even if you haven't been to all these places you see wines from there on the wine list at restaurants quite often, on the shelfs of supermarkets or in your own wine cellar ;-)
But do you know about the challenges that we face in order to the deliver the bottle in time for dinner?
Although the percentage of barreled wine is low (small portion of wines from the Old World) it is interesting, that during winter season it is transported at the temperature of 45-55 F. If the weather conditions are favorable, heating is not necessary but in order to avoid the rapture of the barrel 10-15% of space is left free.
Draught wine is typically shipped in tanks, tank-containers and isothermic tank-container and in the last few years more often in flexi-tanks, this allows to increase loading capacity threefold!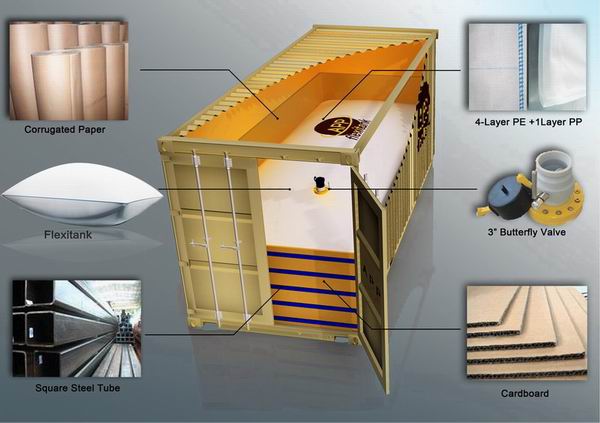 Delivery of bottled wine is whole different story, because the transportation of middle to high-class wines is done in reefer containers or in standard dry containers with thermo insulation systems installed, where the temperature doesn't rise above mid 50's.
In case of a sudden temperature change (the same will happen when you put the wine in the freezer to chill it quickly) wine is subjected to thermal shock. Most probably it will affect the taste and quality of the wine poorly - tartaric acid that looks like snow precipitates. After extended exposure to high temperatures the change is irreversible - full bodied wine becomes vinegar.
We will share a little secret with you about optimal temperatures for different types of wine:


Prosecco - 45F;
White and Rose dry - 50F;
White and Rose semi-dry - 54F;
Light red - 57F;
Red - 60F;
Heavy body red - 65F;
Liquor and dessert wines - 45-65F.
brox will not allow such spoilage of goods. Years of experience of our employees and vendors as well as detailed knowledge of the specifics of the product and its transportation guarantees that we will provide the best quality and taste of your favorite wine.

We are often asked, why is application of excise marks is done in the Baltic States or Finland? The answer is simple, but unexpected.

With such a wide portfolio of manufacturers and suppliers, as well as change in demand for wine and hard spirits, the importer is physically unable to teach every shipper how to apply the right Russian excise mark and counter mark. In essence - excise mark is a duty that has to be paid before importation to Russia.

Let's consider a few examples:
• to import one container of Mablec from Argentina (18,000 bottles) it costs 594,360 RUR in excise duties;
• to import 18 000 bottles of Scotch (40% proof) it is 1,828,800 RUR in excise duties.

Besides excise duties the importer has to pay the tax (for example, for spirits it is 2 euro per liter) at the customs office in Russia at the time of delivery. Starting January 1 2012 the excise duty on all liquor more than 9 per cent proof is 254 RUR.

From the math it becomes clear that the with constant supply and large volumes application of excise marks at the place of production leads to serious delay and "freezing" of funds. Therefore the majority of importers try to minimize the time between the application of the excise mark and crossing the border. This is where ports of Finland and Baltic States come handy - shipping via these ports allows to minimize the interval.

brox is happy to offer you the service of excise mark application in the ports of Riga, Tallinn or Kotka. This will reduce your time expenditure significantly.

Now you are aware of the nuances that surround the transportation of beverages and spirits and you know that in order to deliver the goods on time and in the same condition as when they left the point of origin a lot of work and technological know hows have to be used.

However, if there are still questions that bother you while you open your favorite bottle of beaujolais or Prosecco - just ask us! We are happy to answer all your questions!